Luckily for our furry friends, cutting-edge advancements aren't reserved for humans alone – indeed, new and emerging 2020 technology is making it possible for our pets to live longer, healthier, more pain-free lives than ever before. And as pet lovers and pet care professionals, what more could we ask for? From the astonishing to the amusing, here are eight instances of current veterinary industry technology that you may hardly believe exist.
1. Radiology powered by artificial intelligence
Artificial intelligence has already been making waves in the realm of human medicine, but it has officially arrived in the veterinary space. There are many compelling applications for veterinary AI, including its ability to help predict, and thus provide preventative treatment for, potentially devastating ailments like chronic kidney diseases (CKD).
Yet another groundbreaking application is in the specialty of radiology. Here, artificial intelligence technology such as Vetology AI allows the industry to bridge the gap between the growing demand for more rapid radiology reports and the decreasing number of trained and qualified radiologists. Vetology AI's machine learning algorithm provides intelligence built on thousands of canine thoracic cases. Canine thoracic reports are generated in under five minutes, and the resulting analysis is proven to be not only extremely fast, but accurate – the reports have a 92% agreement rate with board certified radiologist overreads. The "second set of eyes" that AI radiology scans provide veterinarians with is invaluable. In some cases, it has even saved a pet's life!
2. 3D clinic design renderings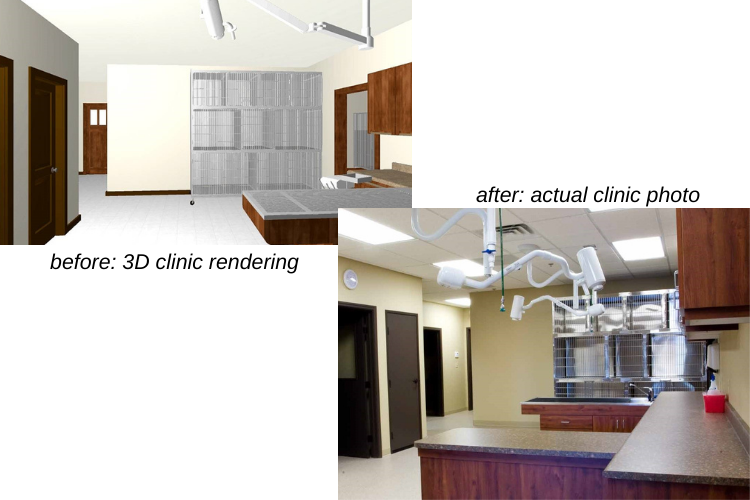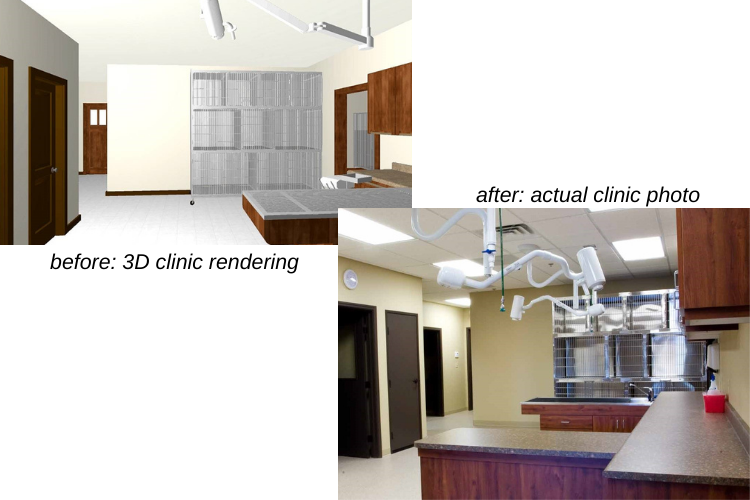 Having a beautiful, well-designed veterinary clinic is about more than just surface level optics. The way your practice looks on both the exterior and interior is often the first impression your clients will have of your business. For example, after a complete design overhaul of her practice, Dr. Kris Kane of Oceanview Veterinary Hospital noted, "I don't need to explain that we practice high quality medicine, because it just looks like we do." Veterinary office design specialist Michael Reynolds adds, "The design of a practice can make or break its success. If it's designed inefficiently and you struggle with your day-to-day activities, everything about the business is going to be hard. Not just for you, but for your staff and your clients."
The trouble is, building a new clinic or remodeling an existing one can be expensive. In fact, many veterinarians will only take on a new build or large-scale renovation once throughout their careers … so it's important to get it right that first time! Cue the power of 3D technology. Special computer software allows designers to provide clients with a detailed, interactive 3D rendering of exactly what their new space would look like. Door placement, light fixtures, cage banks, you name it. Imagine being able to (digitally) stroll through the halls of your space before ever putting shovel to soil. The examples above show just how accurately these 3D renderings translate to "the real deal." (Stay tuned for a new video about this coming soon!)
3. Virtual reality goggles for pets
On the human side of things, virtual reality headsets are being used to reduce anxiety surrounding dental visits and other common phobias, offer revolutionary pain management and even facilitate remote surgeries.
An innovative digital agency named "Isobar," recognized for their brain-monitoring and emotion-measuring research, has recently turned their attention to providing a virtual reality experience to an entirely new audience … cats! According to their website, PVRR (Pet Virtual Reality Research) is a "first-of-its-kind initiative" and "encourages people to keep their pet cats indoors, away from native wildlife." The company has purportedly created multiple hours of stimulating VR footage that appeals to the inherently playful nature of cats – think swimming koi fish and low-flying birds.
This groundbreaking technology also leverages real-time software algorithms to accurately assess a cat's interest level in the virtual reality content on a scale that ranges from TD (totally disinterested), to MD (mildly disinterested), all the way to CNP (cat-nipped), at which point they register the same brain activity that a highly stimulated cat under the effects of catnip would experience. Of course, the launch of PVRR was announced the day after April Fools' Day, so those of you who may scarcely believe this particular technology exists may just be on to something.
4. 3D printing prosthetics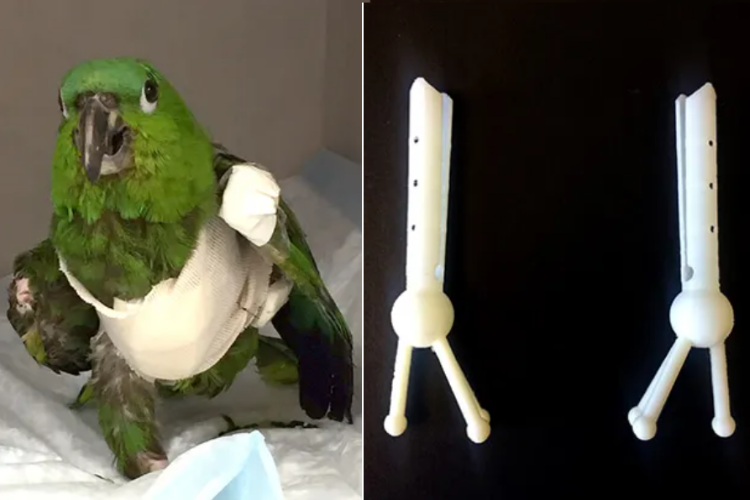 The handsome fellow pictured above is a parrot named Pete. Researchers at the University of Pennsylvania utilized 3D printing, also known as additive manufacturing, to print Pete a prosthetic leg after it had been torn off by a fox. Creating perfectly tailored, custom prosthetics such as beaks for birds, jaws for injured sea turtles and legs for dogs with congenital defects is one exciting application for 3D printing in the veterinary medicine space, but the list goes on. Not only are doctors finding clinical applications for this technology (Patterson Veterinary's NewTom trainer, Dr. Mike Vitucci, has recently purchased a CEREC CAD/CAM unit and is 3D printing teeth for his patients), 3D printing also holds seemingly endless potential from an education and training perspective.
An article from PreScouter notes that there are currently "at least 8 colleges of veterinary medicine that are incorporating 3D printing technology into their programs as both a cutting-edge teaching and clinical tool." Staff and students at these universities turn CAT scans into exact replica 3D printed models of organs, bones and injuries, which are used to help them practice surgical procedures in advance of an operation.
Cost savings, speed, limitless designs and flexibility in printing material further add to the appeal of additive manufacturing. In addition to plastic, metal, nylon, ceramic and stainless steel, veterinarians can now print using natural tissue – living cells filled with fluid!
5. Acupuncture laser therapy
We've heard of laser therapy in the context of Hollywood elite who want rejuvenated, younger looking skin. We've heard of lasers being used to remove everything from acne scarring to regrettable tattoos. But lasers that provide animals with dramatic clinical results in the reduction of pain and inflammation? Lasers that veterinarians can use for wound care, postsurgical incisions, arthritis and strained muscles? Yep!
Our Cutting Edge MLS Therapy Laser features patented Multiwave Locked System (MLS) technology that provides superior clinical results and has presets for canine, feline, equine and exotic protocols. It even comes with an acupuncture tip. Dr. Desiree Garthe of Paradise Point Animal Hospital is a true believer in providing animals with rehabilitative care through alternative therapies. In addition to hydrotherapy by way of a water treadmill, her clinic is also a proponent of laser therapy and acupuncture. She finds it particularly beneficial for pets she knows won't tolerate traditional acupuncture needling well. "I'm sure for a lot of cats that will be beneficial because they don't sit for 20 minutes with needles very calmly. It gives me another option. I love having other options for treating pets and helping them get better and making them stronger."
6. Hyperbaric chambers
According to the Mayo Clinic, lungs can gather more oxygen from pressurized oxygen than they can from pure oxygen. And it's that influx of oxygen that fights bacteria and promotes overall healing. How to get this pressurized oxygen? From spending time in a hyperbaric chamber. Not only are former professional athletes using hyperbaric chamber oxygen therapy to heal injuries and even help with brain trauma … it works for pets, too!
Take it from Dr. Lucretia Greear of Woodhaven Animal Hospital. Greear almost lost her son in a near-drowning incident, but after he spent hours in a hyperbaric chamber during recovery, his results were stunning. That's what gave Greear the inspiration to bring this technology into her veterinary practice, and she now has the only hyperbaric chamber for pets in the entire state of Michigan. They have used it to treat over 3,000 animals for everything from severe burns to brain damage and paralysis, and have even dubbed the machine "Hope." "Oxygen heals. Oxygen saves lives," says Dr. Greear.
7. Pet fitness trackers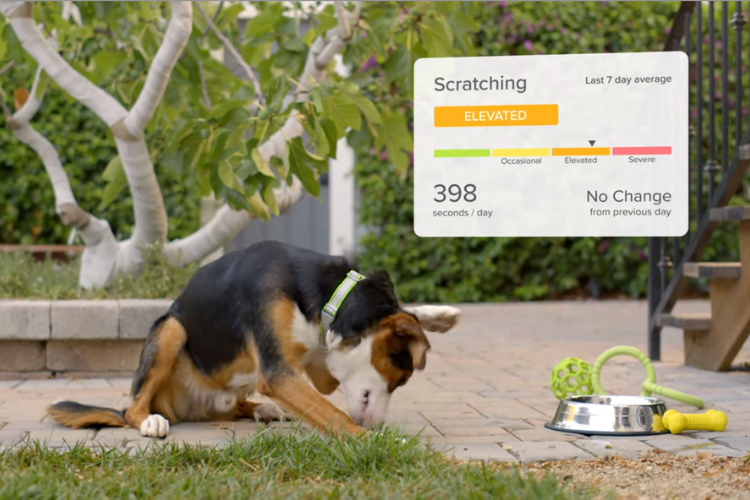 It is indeed exactly what it sounds like. It's the same idea behind Fitbits for humans, only these are made specifically for dogs. As silly as it may initially seem to be able to track, or to be interested in tracking, your pet's number of steps, there's more to it than that. One of the most popular pet fitness trackers is called Whistle. According to Whistle's website, this technology actually helps pet owners practice preventative health care and "catch potential health issues before they become problems." Whistle wellness reports "analyze your pet's licking, scratching, sleeping and activity levels week over week," so you can track behaviors and monitor for any sudden or unexpected changes.
Plus, besides tracking activity levels, many of these products also function as GPS trackers. Some of them require Wi-Fi, while some work off the grid, but most allow you to precisely locate your dog as far as 3,000 miles away. Perhaps one of the most entertaining features of trackers like these is the clever "motivation" tactics they include. For example, another popular fitness tracker called Findster has an app that features a leaderboard where you can compare your dog's statistics with those of other users. The devices are available in a wide variety of patterns and colors, including trendy rose gold – talk about fashion + function!
8. Equine inhalers
Throughout this post we've mentioned several technologies whose human applications have become fairly mainstream, but whose entry into the veterinary space is still quite surprising. Allow us to add inhalers to that list. Did you know that equine asthma can affect from 14-80% of horses in different populations? Just as handheld inhalers help people suffering from the lung inflammation and difficulty breathing caused by asthma, there is now an inhaler that can help provide relief to asthmatic horses.
The newly launched Aservo EquiHaler is the first approved inhalation therapy for the management of clinical signs associated with severe equine asthma. The handheld inhaler comes equipped with a nostril adapter and disperses tiny particles of potent prodrug ciclesonide deep within the lung using advanced soft mist inhaler technology. You can take a look at a detailed demonstration in the video above.
With the Aservo EquiHaler, asthmatic horses can breathe more easily and get back to peak performance. And their owners will be able to breathe more easily, too!
Whether it's a relatively small investment like a pet fitness tracker, or a larger investment like an acupuncture laser or a hyperbaric chamber, there are many exciting and innovative ways practitioners and pet owners alike can experience the power of cutting-edge veterinary technology. If all these things are available today, we can't wait to see what the future brings! How about you?
Interested in learning how Patterson is your true technology partner and exploring our portfolio of technology solutions? Visit us online here.