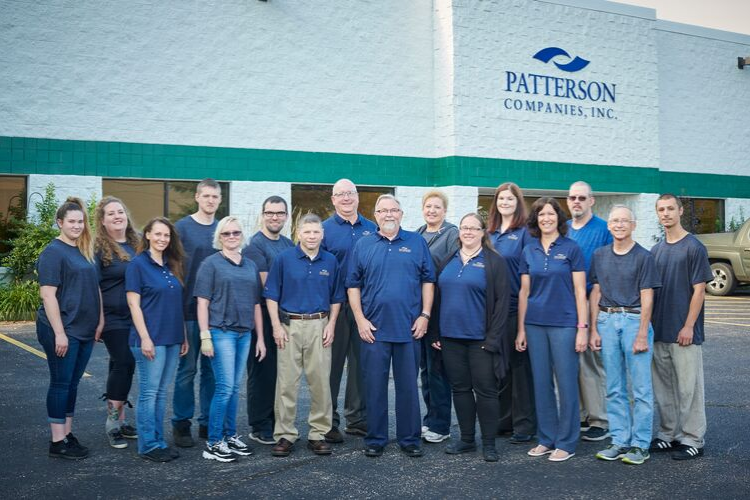 End-to-end anesthesia support: 5 big ways one small town in Wisconsin is helping the veterinary industry

Wisconsin is known as the Badger State, famous for cheese curds and home of the Green Bay Packers and Milwaukee Brewers. It's also home to the Patterson Veterinary Waukesha facility, which supports all things anesthesia, from start to finish.
"Here at our Waukesha site, we manufacture anesthesia equipment and vaporizers, including our Vaporizer Exchange service," said Gary Wold, director of manufacturing. "We also have our anesthesia monitoring hotline here that troubleshoots over the telephone. So it's end-to-end support for our customers, centralized here in one location, and we have 280 years of tribal knowledge in this building alone."
Dave Schoeffel, director of manufacturing, added, "With this facility, we control everything from the design of the products to procurement of the parts. We do all of the assembly and testing here. We do the shipping and receiving here. We have quality control over the entire process, so our customers get the highest quality product at the best price to them."

Here are five aspects of anesthesia support our team at the Waukesha facility provides, explored in greater detail!
1. Designing and manufacturing the Versa II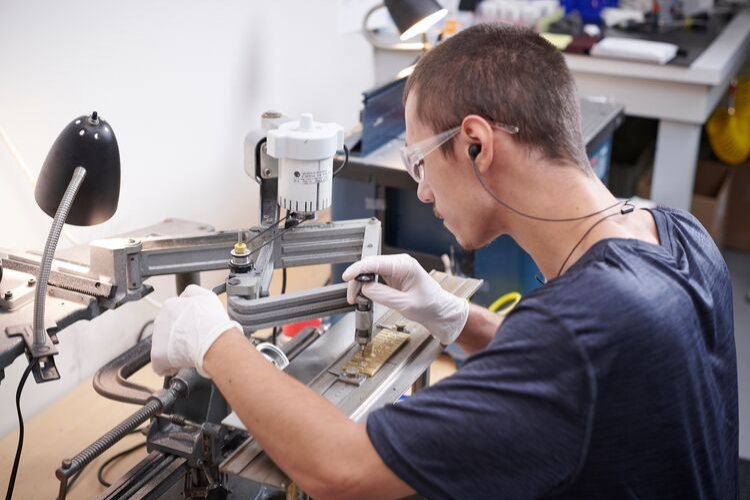 The facility began this work only about eight years ago, and it started with the vaporizer room – a climate-controlled place for vaporizers to be cleaned, repaired, calibrated, checked, double-checked and more before they go out the door.
With hundreds of years of combined experience, it wasn't long before the team was designing equipment and parts as well, namely the design and manufacturing of the Versa II anesthesia system. The goal was to create a quality system optimized for performance and easy to customize at a more affordable price point. Patterson Vet is the only distributor to manufacture its own equipment.
"Nobody knows that machine better than us. Because we control the entire process from design of the product to procurement to the parts assembly and quality control, we offer a lifetime warranty with this one," Schoeffel said, adding, "I think Patterson customers have high standards in terms of what they need for how they want to practice. And anesthesia is one of the things that has to be a stock item. They need it now. I think that's where we shine – virtually everything that we manufacture here is in stock at all times. And we're ready to ship to customers immediately."
2. Vaporizer Exchange service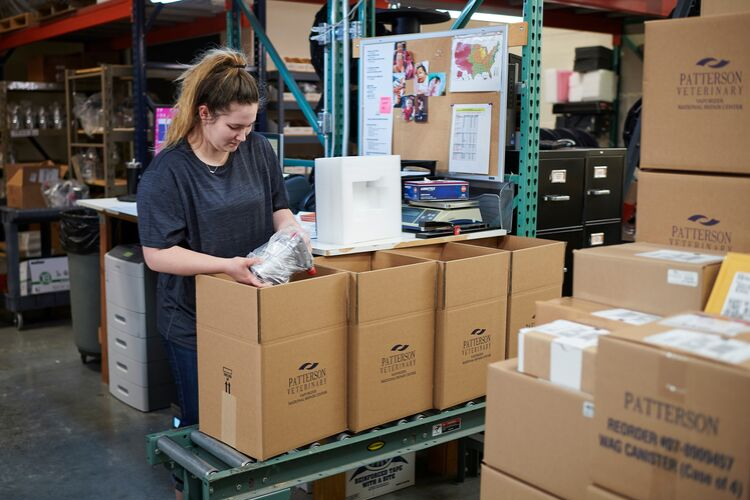 The Waukesha facility is also home to our Vaporizer Exchange service. Patterson will ship a completely rebuilt and calibrated vaporizer to a practice, and the practice then uses the same packing materials to ship their vaporizer back to us. "Basically, it's an exchange program where we send them a vaporizer that's already been rebuilt and calibrated, and they exchange it out for theirs. The returned vaporizer is then rebuilt, calibrated, restocked and ready for the next customer," Wold told us. "It just makes it so there is no downtime for the customer. They literally can exchange it out without having to worry about where their vaporizer is. It's a quick and easy process."
The Waukesha facility actually started with what David Ishmael, national vaporizer repair center manager, calls the "vape room." He explained, "I came on board in June of 2011, so just over eight years now. My job was to set up this whole facility from scratch. So, I took my knowledge of CAD software and laid out the design of the room. We also use CAD programs to develop all the parts and fixtures that we use in the vaporizer room. We started with a 600-square-foot room, and now we're over 1,250 square foot, with seven employees working in here full time and producing over 3,600 vaporizers a year."
Ishmael created not just the room but the process as well. The process is slightly different depending on which type of vaporizer is being serviced. The Waukesha facility services all kinds.
Ishmael described the comprehensive exam each vaporizer receives after it comes into the facility. "There are different stations for each kind. Our team will tear the vaporizer completely apart, clean all the components of the vaporizer, replace the wicking material, O-rings, gaskets, seals and they'll rebuild that vaporizer. They'll also set the thermostats to OEM water resistance settings – we actually have the OEM specs from the original manufacturers on how to do that. Then the vaporizers go through a pressure test, internal and external. They must pass that test. If they don't, then we tear the vaporizer apart and find out why it's leaking. If they pass pressure tests, they move on to where they are filled with anesthetic and they sit for at least an hour so that the wick material inside can absorb the anesthetic agent. After that, they are calibrated on our laser refractometer. The laser refractometer works in conjunction with a PC to print out a calibration report that we provide to the customer. So, when they pass all of that calibration, internal external pressure tests, they're drained and air dried so that they can be shipped to the customer in a dry state. They're then labeled and shipped."
3. State-of-the-art laser refractometers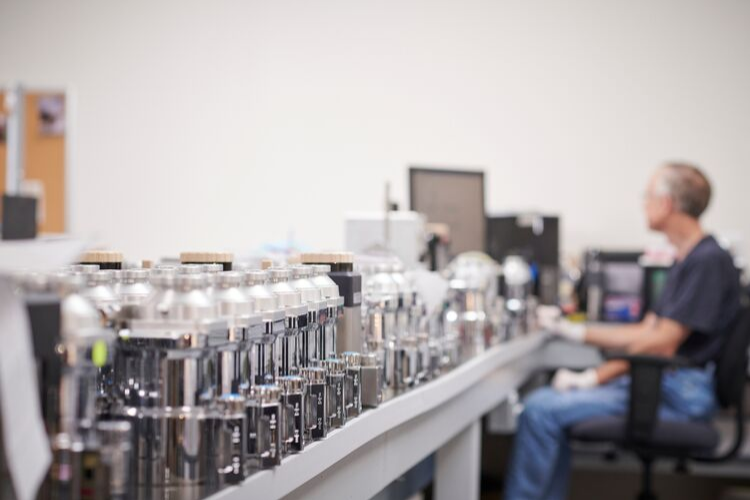 The vape room boasts two laser refractometers. These two pieces of equipment are one thing that others don't have.
Ishmael said, "What sets us apart from a lot of the competitors is we use a laser refractometer to calibrate our vaporizers. They're one of the most accurate pieces of equipment on the market today. In fact, GE Healthcare uses the same technology to calibrate their human vaporizers. It's very important to have the vaporizers go out calibrated accurately."
4. Anesthesia Hotline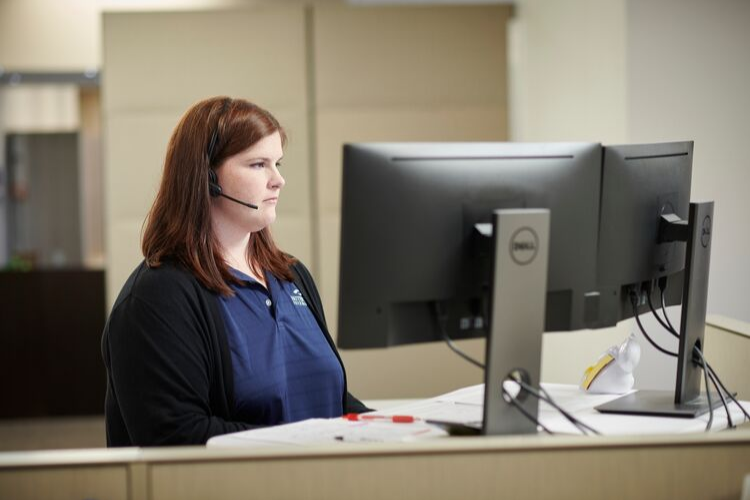 Sales support manager Tia Piering talked about Patterson's Anesthesia Hotline, a free service that makes Patterson Veterinary different than other distributors.
"The Anesthesia Hotline is a part of the team here. We provide clinical and technical support for customers as well as our own team members out in the field, such as territory managers or TechEdge service technicians."
The Anesthesia Hotline team consists of certified veterinary technicians with years of clinical experience as well as technical support experience. Whether it be for private label, Patterson or other manufacturers' equipment, the team is able to assist Monday through Friday from 8 a.m. to 5 p.m. Central Time.
"Veterinarians, practice managers, veterinary technicians – anybody can call in. They don't even have to be a Patterson customer," Piering said. "They can call in and there's no charge for the service. We can answer any questions, whether it's setting up new equipment, or troubleshooting existing equipment. Don't be afraid to call if you can't figure something out." The number is 866.825.6076.
5. Everyday end-to-end support
The Waukesha facility not only designs and manufactures the Versa II anesthesia system, it also is home to the Vaporizer Exchange program, the Anesthesia Hotline and more.
Wold summed it up: "We not only sell the product, we service the product, we troubleshoot the product. It's all about the support."
Ishmael added, "Just feel confident that you're dealing with Patterson. We have some of the best techs in the world here."
To learn more about any of the services discussed here, visit the services page of our website!