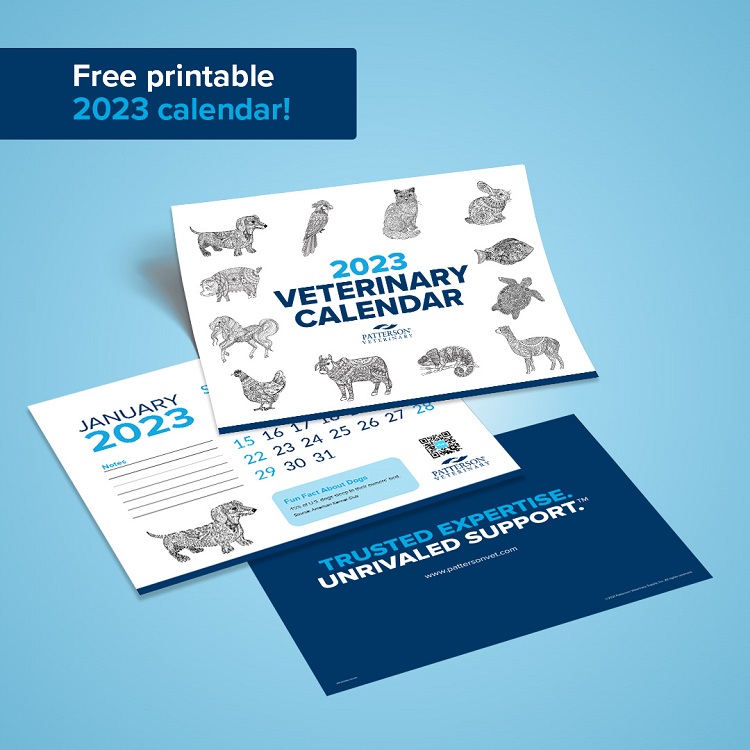 Free Printable 2023 Veterinary Calendar
Somehow it has happened again - another year has whooshed right on by. 💨 Hopefully throughout these past 365 days, you were able to accomplish what you set out to do! If you wanted to hustle, we hope your drive was in the driver's seat. If you wanted to practice mindfulness, we hope you found your Zen. If you wanted to grow your practice, we hope your business is booming. Whatever it was you pursued in 2022, we hope it was a year full of joy, health, personal growth, and special moments. And whether it was all you wished it to be or not, the great news is that a fresh new year lies ahead of us. 2023 is a blank canvas waiting for you to add your spirit, your talents, and your color to it.
You know what else is blank and waiting for you to add your color? The pages of our free, printable 2023 veterinary calendar! Each month features a different animal, which has been designed as an adult coloring book page. And, because we know you're just as cuckoo for critters as we are, each month also includes a fun and fascinating animal fact.
Print out a copy for yourself and color throughout the year, or print copies for your whole team and make a fun team-building activity of it! Either way, we hope this calendar offers plenty of organization and inspiration, and leaves behind any consternation and perspiration. 😅 Thank you for continuing to visit our blog, and more importantly, for continuing to allow us to serve you and your teams and practices. Happy New Year!
CLICK HERE to Download Your Free 2023 Printable Calendar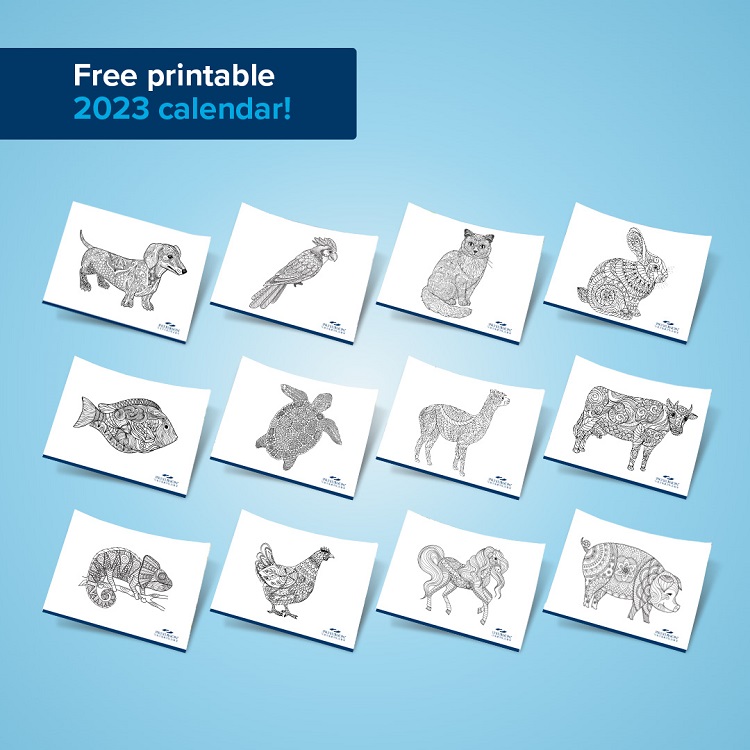 Quick Guide to 2023 Veterinary Industry Obvservances & Events
From quirky celebrations like Porcupine Appreciation Day (July 2), to cornerstone industry trade shows like VMX (January 14), here is a quick reference guide to some of the fun to come in the year ahead!
January 2023
Walk Your Pet Month
January 2: Pet Travel Safety Day
January 5: National Bird Day
January 14-18: VMX Trade Show, Orlando, FL
January 21: Squirrel Appreciation Day
January 22: Answer Your Cat's Questions Day
February 2023
Pet Dental Health Month
February 1: National Serpent Day
February 19-22: WVC Conference, Las Vegas, NV
February 20: Love Your Pet Day
February 27: International Polar Bear Day
March 2023
Senior Pet Month
March 3: World Wildlife Day
March 5-11: Professional Pet Sitters Week
March 13: K9 Veterans Day
March 14: Save a Spider Day
March 23: National Puppy Day
April 2023
Heartworm Awareness Month
April 11: National Pet Day
April 17: International Bat Appreciation Day
April 23: Lost Dogs Awareness Day
April 29: World Veterinary Day
April 30: Adopt a Shelter Pet Day
May 2023
Lyme Disease Awareness Month
May 1: Save The Rhino Day
May 7-13: National Pet Week
May 13: Migratory Bird Day
May 19: Endangered Species Day
May 23: World Turtle Day
June 2023
Adopt a Cat Month
June 4: Hug Your Cat Day
June 8: World Oceans Day
June 13: World Pet Memorial Day
June 15: Lobster Day
June 16: World Sea Turtle Day
July 2023
Digital Imaging Month
July 11: Cow Appreciation Day
July 14-18: AVMA Convention, Denver, CO
July 15: Pet Fire Safety Day
July 21: Craft for Your Local Shelters Day
July 31: National Mutt Day
August 2023
Immunization Awareness Month
August 14: World Lizard Day
August 15: Check the Chip Day
August 17: Black Cat Appreciation Day
August 22: Take Your Cat to the Vet Day
August 30: Holistic Pet Day
September 2023
Service Dog Month
September 8: Iguana Awareness Day
September 16: Responsible Dog Ownership Day
September 17-23: Farm Health and Safety Week
September 23: International Rabbit Day
September 28: World Rabies Day
October 2023
Anesthesia Month
October 4: World Animal Day
October 11: Pet Obesity Awareness Day
October 15-21: Veterinary Technician Appreciation Week
October 21: Reptile Awareness Day
October 29: National Cat Day
November 2023
Senior Pet Month
November 1: Cook for Your Pets Day
November 3: Jellyfish Day
November 8: World Radiography Day
November 12-18: Practice Managers Appreciation Week
November 29-December 3: AAEP Convention, San Diego, CA
December 2023
Safe Toys and Gifts Month
November 29-December 3: AAEP Convention, San Diego, CA
December 9: International Day of Veterinary Medicine
December 13: Day of the Horse
December 15: Cat Herders Day
December 27: Visit the Zoo Day
We truly enjoy putting together these annual calendars for you, but we'd love to know what you think. Stop by our Facebook or Instagram pages and feel free to share any feedback about this year's offering. And, OF COURSE, if you do take the time to color in a page or two (or twelve), we'd love to see what you came up with, you little artist, you! Please snap a pic and be sure and tag us when you do.