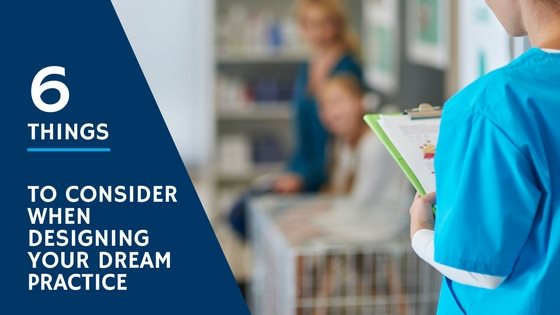 6 Things to Consider When Designing Your Dream Practice

If you're like a lot of veterinarians, you left veterinary school dreaming of the day you would open the doors to your very own, brand new animal hospital. You imagine the first day the hospital will open, with curious neighbors stopping by and new patients and clients coming in to be among the first to be treated. You envision watching young animals grow, while also watching the entire family evolve over the years. And above all, your goal is to provide the best quality of care possible every single day.
Turning that dream into a reality is both an exciting and sometimes overwhelming experience. Veterinarians are faced with unique challenges when it comes to building a new hospital, which is why it's important to have a dedicated team with extensive knowledge of the specific needs of veterinarians.
Below are six items to consider, as you contemplate taking the leap and making your dream practice a reality.

1. Consider finding a trusted "partner in crime" to help you achieve your dream
Design It all starts with Michael Reynolds, a Patterson office designer who has worked on nearly 1,000 veterinary hospital designs during his career. He knows the ins and outs of what it takes to maximize space, and understands the types of challenges veterinarians face. "My philosophy on office design is to always think about two vantage points: the client and their experience, and the veterinary staff and their experience. Both have to be happy in that space or it's not a good fit," said Reynolds. "When designing animal hospitals, that first vantage point is more complicated because you have animals and their owners to consider."

2. Consider convenience
This means Reynolds must evaluate how sound and smell carries through a building, if there's enough space for people and animals to comfortably and safely move around, and if an office is designed ergonomically. "I always design for ergonomics. That's a big part of everything that goes into a layout. You have to consider convenience, how the equipment will be positioned and storage," said Reynolds. In animal hospitals, where space is often tight, maximizing all available storage is important. For bulk supplies or large items, Reynolds indicates that it's important to consider how those items are accessed, how frequently they're accessed and how they get delivered to the hospital. Veterinarians spend a lot of time on their feet and moving around the hospital, so promoting career longevity is important to Reynolds, which is why ergonomics is a high priority. "Ergonomics fits into absolutely everything that I design."

3. Consider minimizing interactions
Another area of focus for Reynolds is on spatial awareness. "Designing a hospital for humans is so different from designing an animal hospital. You want to make sure your patients, their owners and your staff members don't find themselves in uncomfortable situations. It's important to be conscious of places in the layout where animals may cross paths with each other, and then determine how to best minimize interaction. That might mean widening halls or repositioning certain exam rooms within the hospital," said Reynolds. "And your staff members need to be able to move quickly and efficiently through the hospital, remembering that at times they may be escorting animals, so minimizing bottlenecks is important."

4. Consider maximizing your space with virtual reality
With all these details in mind, Reynolds then uses DesignEdge to create detailed 3D models of the hospital. This visual experience doesn't just show you what your hospital can look like, it takes you there. "Seeing designs in 3D can be very beneficial to the veterinarian and the designer because it really helps alert you to challenges to avoid down the road, and opportunities to maximize your space," said Mike Stark, Patterson office design manager. "DesignEdge gives you the power to actually see and experience your hospital and consult with professionals about the design before you make a big investment."

5. Consider keeping financial goals top of mind
When your design is complete, your Patterson equipment specialist steps in to assist you with financing needs and equipment selection. "Equipment specialists can help identify opportunities for increased revenue. In small spaces, it's important to get treatment rooms set up correctly so that every piece of equipment helps the veterinarian achieve their financial goals," said Stark. Equipment specialists also can help connect you with reputable contractors and real estate agents to assist your build-out needs.

6. Consider attending a national Guiding Practice Success event
A great way for veterinarians to see the latest technology and equipment available is to attend one of our national Guiding Practice Success (GPS) events, hosted in cities all over the country. An added bonus of attending a GPS event: we've made virtual reality a reality. "Virtual reality is becoming more and more popular, and we're really happy to be able to offer this experience to our customers," said Stark. Attendees of GPS events will get a unique opportunity to go through a demonstration and get a little taste of the future.
So that practice you've been dreaming of building? You can make it a reality. You've got the vision and we've got the resources. Talk to your Patterson representative today to learn more about our design services and how we can help you turn your dream into a reality. "DesignEdge gives you the power to actually see and experience your hospital and consult with professionals about the design before you make a big investment."