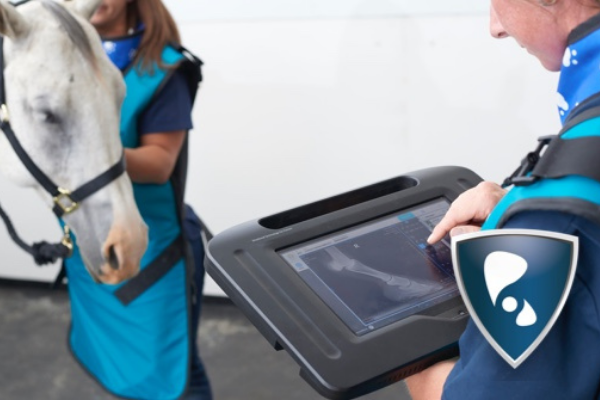 10 Patterson Veterinary Resources for the Promotion of Safety and Health in the Workplace

Few things are of more paramount importance in a veterinary clinic than ensuring a safe and healthy working environment, and creating a culture that is laser-focused on prevention. We've put together the following list of 10 Patterson Veterinary resources which aid in the promotion of safety and health at work, and are available to any veterinary professional — Patterson customer or not.
With this wide variety of offerings, from continuing education courses, to blog posts, to programs and services, we hope that you will find a resource that speaks to your practice's current needs, and that you will discover new tools and fresh inspiration for keeping workplace safety at the top of your priority list!
Programs and services that promote workplace safety

1. Radiation safety service
We work directly with "The Radiation Detection Company," a worldwide leader in personnel dosimetry monitoring services. Through our radiation service, you will be able to protect your staff through a combination of software and badges that allow you to monitor the team's dosimetry to ensure safe levels, all while being OSHA compliant.
Click here to learn more about radiation safety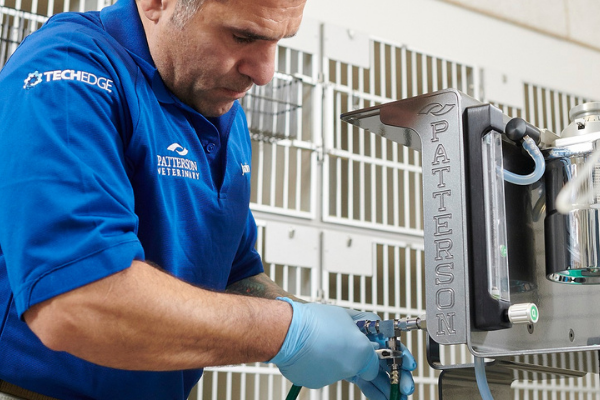 2. Equipment maintenance and repair service
Properly functioning equipment is key to maintaining a safe working environment. Our team will assist you with installation, training, and proper implementation of your equipment and technology, and our support doesn't end there. If anything goes wrong, we will be there to help in whichever manner you prefer, whether it's in person, over the phone, or online. Our extensive support infrastructure has evolved over 140 years of focusing on customer service.
Click here to learn more about equipment maintenance and repair

3. AutoSDS
Automate your OSHA compliance with AutoSDS, an organizational tool featuring an easy-to-use online interface for managing your practice's safety data sheets. SDSs will be automatically reviewed and updated on a regular basis, and can be accessed from any computer or mobile device.
Click here to learn more about AutoSDS

4. Sharps disposal program
Patterson Office Supplies offers mail-away sharps containers in a variety of sizes, making it easier than ever to safely and efficiently dispose of your medical waste. Simply select the size container you need, and when it's full, place it in a pre-paid box and send it in the mail. Your package will be shipped directly to an incinerator, making this an environmentally responsible option as well!
Click here to learn more about our Sharps disposal program

5. Data security
Safety in the workplace extends to your sensitive data as well. Store financial and patient information securely with PattLock, a Patterson technology that is compatible with all practice management solutions and all file types. All you need is an internet connection.
Click here to learn more about protecting your data with PattLock
Patterson Veterinary University courses geared towards safety and infection control

6. Disinfection: keys to success
Created in collaboration with Virox® Animal Health, this course presents a guide for what you and your team need to identify gaps and opportunities when developing a disinfection program that will make your practice safer for every person and animal that comes through your doors.
Click here to learn more and register

7. Veterinary practice infection control
Created in collaboration with Virox® Animal Health, this course focuses on how a complete infection control plan is imperative in protecting your patients, practice, and everyone in it.
Click here to learn more and register

8. OSHA and safety management
This course includes comprehensive safety-plan templates, so your practice can implement best practices. It also helps teams understand the safe handling of hazardous materials and the ability to identify proper personal protective equipment.
Click here to learn more and register
Safety-focused Patterson blog posts

9. Complimentary Anesthesia Support Hotline
Our complimentary anesthesia hotline was established more than a decade ago to help veterinarians, vet techs, and practice managers troubleshoot anesthesia issues. The hotline is staffed by registered vet techs who have worked in a clinical setting and understand the problems that can arise with anesthesia. Anybody can call in and speak with an expert, even non-Patterson customers.
Click here to read the full post

10. Anesthesia safety advice from five experts
This article highlights safety techniques and tips from five different VTS technicians in Anesthesia and Analgesia. Each VTS interviewed was asked for their top safety advice, and these are their answers, in their own words.
Click here to read the full post
Of course, this list is by no means the end of our safety-focused services and offerings. We urge you to explore our website or contact your local Patterson representative for additional ideas or specific requests.
What are some ways that you and your team promote a safe and healthy workplace? Stop by our social media channels and let us know!